Jak twardy brexit wpłynie na gospodarkę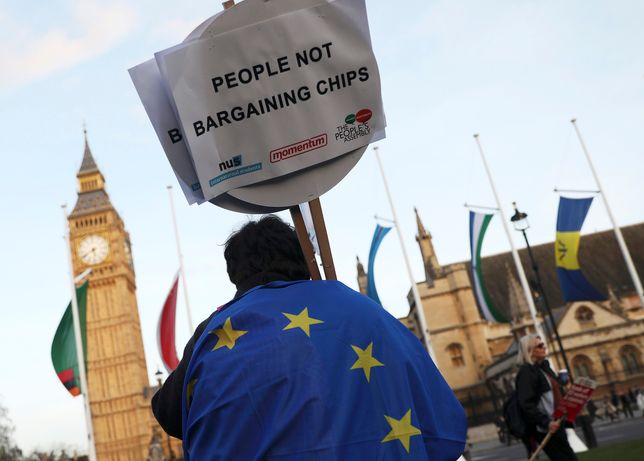 W niedzielę, 18 sierpnia "The Sunday Times" – niedzielne wydanie konserwatywnego dziennika "The Times" – opublikował rządowy dokument operacji Yellowhammer ("Trznadel"), która opisuje działania, jakie będzie musiał podjąć brytyjski rząd w przypadku wyjścia z Unii Europejskiej bez porozumienia. Dokument jest poufny, ale członkowie rządu Borysa Johnsona potwierdzili jego autentyczność. Michael Gove, minister odpowiedzialny za koordynację planowania w przypadku brexitu bez porozumienia, powiedział, że raport przedstawia "najgorszy scenariusz".
Twardy brexit spowoduje dla UE-27 utratę 1,54 proc. PKB i 1,2 mln miejsc pracy, a dla Wielkiej Brytanii blisko 4 proc. PKB i około 525 tys. miejsc pracy. Strata PKB nie dokona się w ciągu jednego roku, lecz będzie rozłożona na kilka lat.
To z kolei grozi brakiem leków i żywności. Co za tym idzie, ceny jedzenia mogą gwałtownie pójść w górę. Ewentualne wyjście Wielkiej Brytanii z Unii Europejskiej bez podpisanego porozumienia wiąże się z licznymi utrudnieniami dla przedsiębiorców, chcących dalej utrzymywać z tym krajem relacje gospodarcze. Co równie istotne, twardy brexit uderzy w istniejące rozwiązania z zakresu łańcucha zakupów i dostaw pomiędzy przedsiębiorcami oraz w ramach międzynarodowych korporacji.
W konsekwencji we wzajemnych relacjach zaczną obowiązywać kontrole graniczne i opłaty celne. PIE zauważa, że wyjście Wielkiej Brytanii z UE niesie konsekwencje dla budżetu Wspólnoty, czyli tzw. wieloletnich ram finansowych, bo Wspólnotę opuszcza jeden z trzech największych płatników netto (nawet po uwzględnieniu słynnego brytyjskiego rabatu wywalczonego przez premier Margaret Thatcher w 1984 r.). Tymczasem ze wspólnego budżetu finansowane są m.in. dopłaty do rolnictwa, inwestycje infrastrukturalne, badania naukowe czy program Erasmus, a Polska jest jednym z największych beneficjentów tych funduszy.
Dzięki tej strategii udało się jej przeforsować udział w szczytach państw euro powołanych Traktatem o stabilności, koordynacji i zarządzaniu w unii gospodarczej i walutowej 11 . Wyjście Wielkiej Brytanii z Unii Europejskiej będzie miało negatywne konsekwencje dla całej gospodarki kraju. Jej obroty handlowe z innymi państwami europejskimi mogą znacząco spaść.
"Migracja jest dobra dla Irlandii"
Także Zjednoczone Królestwo będzie musiało dostosować własne ustawodawstwo do tych zmian, jako że w okresie przejściowym wiąże je prawo europejskie wraz z wprowadzonymi w tym czasie nowymi aktami prawa. Nie wiadomo, jaką formę współpracy w tym zakresie wybiorą władze UE i Wielkiej Brytanii z początkiem 2021 r., czyli wraz z końcem okresu przejściowego przewidzianego w umowie "rozwodowej" pomiędzy Wielką Brytanią a UE.
Najprawdopodobniej po tym czasie (tj. po 31 grudnia 2020) kontrole graniczne będą prowadzone. Biorąc jednak pod uwagę zapowiedzi strony brytyjskiej i deklarowaną przez nią chęć ustanowienia warunków jak najbardziej zbliżonych do wolnego handlu, a także funkcjonującą od dawna swobodę przepływu towarów w UE, można oczekiwać, że ostateczny traktat normujący stosunki dwustronne będzie stwarzał dla przedsiębiorców bardzo przystępne ramy prawne działalności handlowej. Niepewna jest sytuacja pracowników w Wielkiej Brytanii w przypadku wyjścia bez umowy. W materiałach opublikowanych przez Komisję Europejską, organ ten wezwał wszystkie państwa członkowskie, aby w razie twardego brexitu respektowały dotychczasowe prawa obywateli brytyjskich już przebywających na ich terytorium.
Premier Theresa May przedstawiła długi katalog żądań, nie oferując nic konkretnego w zamian. Londyn oświadczył też, że koszty wyjścia Wielkiej Brytanii z UE, oszacowane przez Brukselę na 60 miliardów euro, to "jawna ekstrawagancja", bo przecież w latach 50.
hamulec bezpieczeństwa, mając nadzieję, że pomoże on utrzymać Brytyjczyków w europejskiej rodzinie.
nie można wykluczyć możliwości powstania bardziej restrykcyjnych regulacji.
na podstawie szacunków naukowców z National Institute of Economic and Social Research polski instytut podkreśla, że nasz kraj zostanie poszkodowany niezależnie od tego, czy realizowany będzie tzw.
Oczywiście, również w przypadku twardego brexitu nie jest wykluczone, podpisanie przez UE i Wielką Brytanię umowy regulującej zasady wzajemnego dostępu do rynków zamówień publicznych.
– Nasze relacje zewnętrzne, jako kraju Unii regulują przepisy unijne. Doskonałym przykładem jest umowa handlowa między Unią a Kanadą (CETA). Wspólnota podpisała porozumienie, a Polska, jako państwo członkowskie ratyfikowała.
• Wyjście Wielkiej Brytanii z UE może doprowadzić do gwałtownego wzrostu liczby upadłości firm zarówno w Wielkiej Brytanii, jak i w wielu innych krajach. Sprawa ta pokazuje, że nasze sądy zaczęły działać w istocie jako sądy konstytucyjne Unii Europejskiej, co wcześniej wydawało się nie do pomyślenia. Oznaczało to przesunięcie władzy z parlamentu i rządu na rzecz sądów. Kiedy zatem z powrotem przejmujemy kontrolę od Europy, odbieramy ją nie tylko Brukseli, lecz także sądom. Ograniczenie suwerenności parlamentarnej stało się dostrzegalne dla większości ludzi w przypadku imigracji z UE.
twardego brexitu, to mieszkańcy Wysp mogą spodziewać się dużych utrudnień. Świadczą o tym rządowe dokumenty, do których dotarł "Sunday Times". Podsumowując, wyjście Wielkiej Brytanii z Unii Europejskiej rodzi konsekwencje zarówno w przypadku twardego, jak i miękkiego brexitu. https://maxitrade.com/pl/brexit-konsekwencje/ Jednakże w tym pierwszym przypadku ograniczenia mogą spowodować ogromny chaos w relacjach gospodarczych i rozerwanie więzi gospodarczych, funkcjonujących obecnie w ramach wspólnego rynku pomiędzy przedsiębiorcami jak również wewnątrz dużych międzynarodowych korporacji.
Dotyczyć one będą takich kwestii jak nowe kontrole na zewnętrznej granicy UE z Wielką Brytanią, ważność wydanych przez to państwo licencji, certyfikatów i zezwoleń oraz różne przepisy dotyczące przekazywania danych. Boris Johnson wielokrotnie zapowiadał, że jako premier https://maxitrade.com/pl/ Wielkiej Brytanii na pewno doprowadzi do brexitu do 31 października. Johnson jest przekonany, że uda mu się wynegocjować nową umowę ws. brexitu z UE, ponieważ umowa wynegocjowana przez Theresę May jest "martwa". Johnson zadeklarował też, że jest gotów przeprowadzić tzw.
Naiwne byłoby jednak myślenie, że Wielka Brytania wspierała rozszerzenie na Wschód wyłącznie z pryncypialnych pobudek. Liczyła na ekspansję rynku wewnętrznego i pozyskanie nowych konsumentów. Miała również nadzieję, że państwa Europy Środkowej będą jej naturalnym sojusznikiem w promowaniu agendy dalszej liberalizacji rynku wewnętrznego oraz będą stanowić naturalną przeciwwagę dla francusko-niemieckich dążeń do dalszego pogłębiania integracji.
miękki brexit, to żaden emigrant zarobkowy nie będzie musiał się obawiać pozostania na Wyspach co najmniej do końca 2020 roku. Wariant ten zakłada bowiem okres przejściowy, rozumiany jako czas pomiędzy opuszczeniem UE a początkiem przyszłej umowy o wolnym handlu.
Użytkownik korzystający z odnośnika będącego adresem e-mail zgadza się na przetwarzanie jego danych (adres e-mail oraz dobrowolnie podanych brexit konsekwencje dla polaków danych w wiadomości) w celu przesłania odpowiedzi na przesłane pytania. Dla Holandii kanał La Manche jest ważnym punktem tranzytowym.